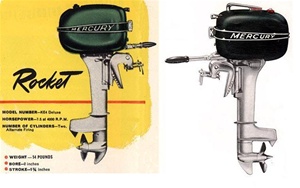 This model was painted "Mercury Green" and "Dull Aluminum."
Model & serial numbers were on the instruction plate riveted across the front of the fuel tank rim.
Serial numbers 214324 to 234323 are 1947-48 models.
243054 to 261720 are 1948-49 models.
379650 to 390192 are 1949-50 models.
438834 to 441837 are 1950 models.
449194 to 450695 are 1950-51 models.
465696 to 473705 are 1951 models.
493751 to 495754 are 1951-52 models
525404 to 548762 are 1952 models.
A carrying handle on top of the motor appeared about 1949. (Pictured in right photo.)
The style of the tiller handle grip changed about 1950.
1951 and 52 models had a different, larger exhaust manifold on the port side.
A few KE4's in the 1950 time period had the letters "HD" stamped into the instruction plate. These were equipped with a larger carburetor and smaller KF3 style gear housing and were intended as racing motors.