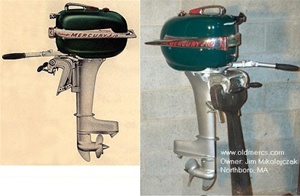 This model was painted "Mercury Green" and "Dull Aluminum."
Model & serial numbers were on the instruction plate riveted to the fuel tank rim.
Serial numbers 402543 to 444887 were 1950 models.
469702 to 492818 were 1951 models.
499262 to 537512 were 1952 models.
Some of the 1951 and 52 models had a "Q" stamped after the serial number and were factory-equipped with the early version Quicksilver Racing Lower Unit, similar to the lower unit on the KG7H.
A few very early models had different clamp brackets than pictured.