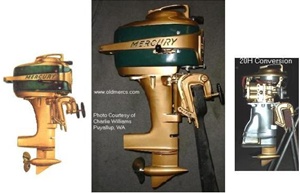 General Information:



This model was painted "Mercury Green" and "Gold."
Model & serial numbers were on the instruction plate riveted to the swivel bracket above and between the clamp screws.

Serial numbers range from 786613 thru 790612.
This model was sold in 1954-55-56. Low numbers in this serial group can be assumed to be 1954, high numbers 1956, and mid-range numbers 1955 area.
Many of these models were "converted" in about 1959 to make them faster and more powerful. The Conversion Kits changed the exhaust system, fuel system, and lower unit gear ratio. Conversion engines have a remarkably different appearance. (See photo.)
Original, unconverted engines used a special pressurized 2-line fuel system.