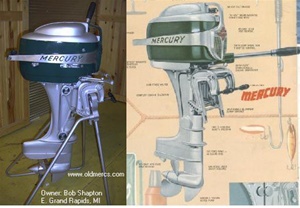 General Information:



This model was made in the following color combinations:
"Mercury Green" and "Dull Aluminum" (pictured above) *Note: The factory illustration shown above is slightly inaccurate. The sides of the front cover/handle and the lowermost panel of the side cowls were painted rather than aluminum color. Early models used a different midsection design like in the factory illustration. Later models are as seen on Bob Shapton's motor above.
"Sunset Orange" and "Sand Tan"
"Sarasota Blue" and "Sand Tan"
"Marlin Blue" and "Gulf Blue"
This model was also produced in Long Shaft (Mark 25L).
Model & serial numbers were on the instruction plate riveted to the swivel bracket above and between the clamp screws.

Serial numbers 860979 thru 906751 were 1955 models.