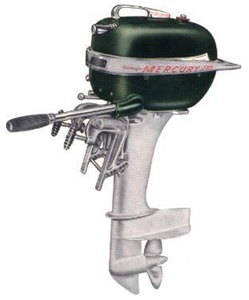 This model was painted "Mercury Green" and "Dull Aluminum."
Model & serial numbers were on the instruction plate riveted to the fuel tank rim.
Serial numbers 500012 to 546262 were 1952 models.
Many of these engines were produced with a water pump that was too small to adequately cool the engine. Mercury attempted to recall all of these motors and convert them to accept the 47-20813 impeller which is 7/8" tall. If your impeller is not that tall, it would have to be the early design that has not been made since 1952. The only option for an early design that has never been upgraded is to locate the later pump housing, cover, and cover plate, and convert to the 47-20813 impeller.