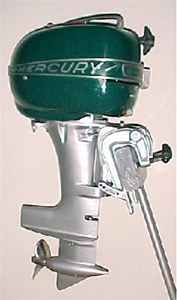 This model was painted "Mercury Green" and "Dull Aluminum."
Model & serial numbers were on the instruction plate riveted to the fuel tank rim.
The only group of KG4H's on our serial number list ranges from 594628 to 595627 and would fall in 1953.
In addition, Mercury offered parts to convert KG7's to KG4H's and would issue a new serial plate exchange to people who made the conversion, keeping their original KG7 serial number.