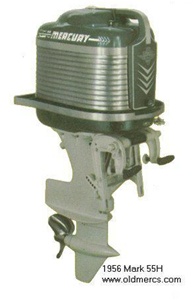 General Information:



This model was painted "Quicksilver Green" and "Sand Tan" (1956 Production).
The small number of models made in 1959 were painted "Cloud White."
Model & serial numbers were on the instruction plate riveted to the swivel bracket above and between the clamp screws.
Serial numbers range from 983920 thru 997919 for 1956 production.
1260725 thru 1261034 is believed to be the range for 1959 production.
The 1956 production was factory equipped with Carter Carburetors. Most engines were converted to Tillotson KA7A carbs about 1959 to achieve better reliability and overall performance.